Why choose us?
1

2

The great location
Hotel Giannini is beachfront, wake up in the morning and see the sea from the window of their room, go out and be in a while lounging on the couch to relax. Hotel Sirena are right on the promenade of Viale Oliveti, in the heart of Miramare! Shops, bars, restaurants, and the sea is only one step!

3

Quality and fun, that's what we deal!
Good food, balanced and varied, different every day with a nice salad buffet. The rooms are always clean with air conditioning and private bathrooms.
Our Offers
Some of our services:
Thermarium Rimini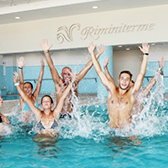 The Adriatic coast is ideal for sea holidays, games, entertainment for young and old.

The Adriatic coast is ideal for sea holidays, games, entertainment for young and old.

The credit is certainly equipped beaches, hinterland, food culture, the proverbial hospitality, but also the presence of the Thermarium Rimini makes the difference.

The properties of the Thermarium in Rimini avail themselves of the use of thermal spring salsobromoiodic, also is the only spa in Emilia Romagna that uses sea water and spa and has the largest beach and equipped of the Adriatic Coast.

During the summer we organize events such as aperitifs, the gym at the beach with entertainment and many other fun activities and sports.

In addition to treatment, you can use the spa: Shiatsu massage and slimming treatments! Your Wellness at 360°!

Do not forget that a team of doctors is always at your disposal!

Welcome to Rimini Terme. Welcome to the wellness!

The Sirena Hotel and Giannini are among affiliated facilities: contact us for packages to complement your holiday.
Wellness Offers
Beach Village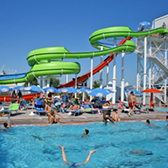 Super Fun in Riccione! The shuttle from our hotel is free!

The Beach Village is the only water park located on the beach, the area 134 in Riccione, with slides and heated pools.

Many activities and services for clients: offers: mini club & nursery, soft and sports tournaments, water aerobics, cocktail game, group dances, Latin American lessons, video-games area, an area of 70 square meters dedicated to creative workshops.

This year for those who choose the Hotel Sirena and Giannini, the entrance to the Beach Village is FREE and UNLIMITED!
Holiday Offers
Theme Parks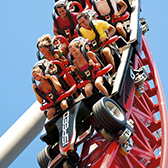 Rimini and its many theme parks are an attraction that has always been the talk of!

Mirabilandia, just 30 minutes' drive from Rimini, is a great amusement park for adults and children, where trovere shows, roller coasters, dozens of attractions, games and restaurants. For smaller instead Fiabilandia (a few hundred meters from our hotel) will take you into the world of fairy tales! Do not forget Italy in Miniature Park and Oltremare with its magnificent dolphin show, Aquafan and its swimming pools and slides and park Le Navi, a modern aquarium.

Holiday Offers